Sigiriya (Lion Rock)
On the way to the Sigiriya (Lion Rock) we also had an opportunity to look at the rice fields where there was activity. This despite the fact that the temperature regularly exceeds 30 degrees Celsius: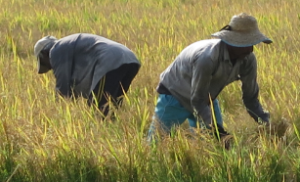 Sigiriya is the ruins of a Royal Palace. The cliff is 200 meters high and can be climbed through 1,200 steps!
Sigiriya is on UNESCO's World Heritage List.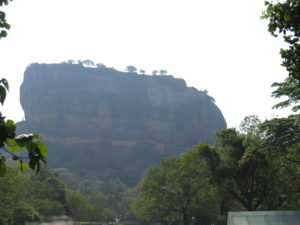 If you do not have the great skills to move in the heights (ie fear of heights) it may not be the best activity to do.
From home we looked at some youtube-videos from the Sigiriya Lion Rock, and it confirmed us that we should not get up and see the rock above. But it was a good experience to be on the spot anyway.
This dog also did not move all the way to the top of the cliff: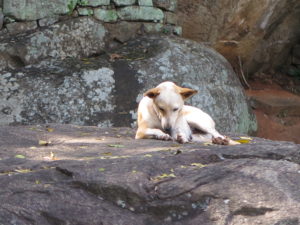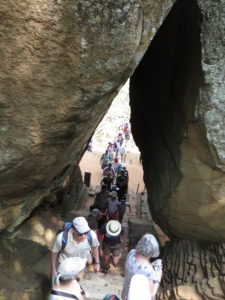 This is the start of the stairs with over 1,000 steps: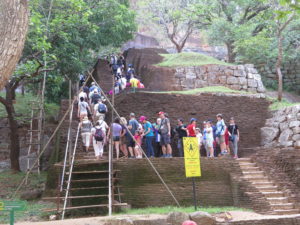 Golden Temple of Dambulla – close to Sigiriya (Lion Rock)
Golden Temple of Dambulla is also known as Royal Rock Temple and Dambulla Cave Temple.
So we went to the Buddhist Golden Temple of Dambulla. This time there were only 600 steps and stone paths up to the cave temples. 🙂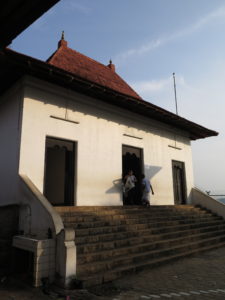 Like Sigiriya is Dambulla Golden Temples of UNESCO World Heritage Site.
On site there are five caves where there are more 150 different Buddha statues – quite impressive. The temples are built into the original caves in the rock.
In the first little cave there was a large-lying Buddha of approx. 15 m.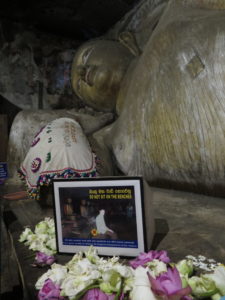 The Buddhas are made of different rulers from about Year 0 to up in the 1800s.
It was a good experience, and this time there was no reason to get fear of the heights up the 600 steps.
Here are some of the Buddha-figures: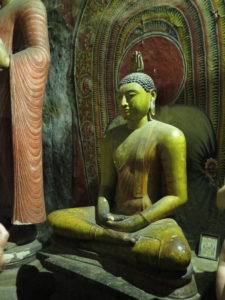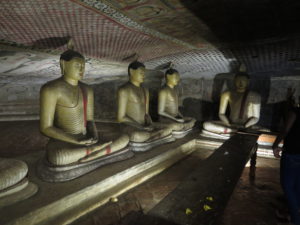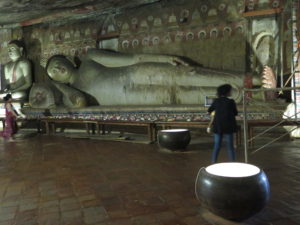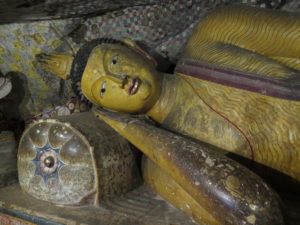 In the area there were also other things than Buddhas to look at: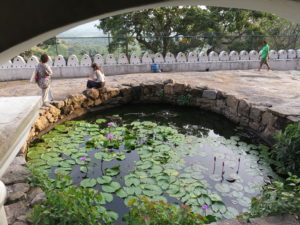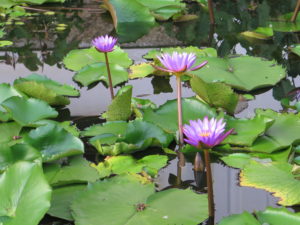 ……….. and the phone may suddenly call 🙂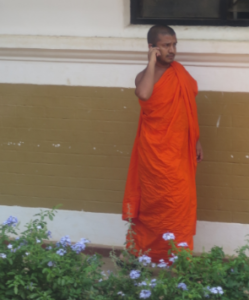 At the end there was still a Buddha-shape. And this is gilded. The place is called Golden Temple, where there is also a museum which, however, we did not get to look at. It must wait until the next time we come here!